The TRUTH about 2012:
Part 1: Sources of ancient wisdom:
The Mayans Had a Hard Stop On Their Calendar
If there is one piece of proof of the coming 2012 catastrolypse that the Conspiracy has been unable to suppress, it is the well-known end to the Mayan calendar. Or, technically, the end of one of their calendars. Whatever. But this isn't like some issue where they just needed to upgrade to "Mayan Outlook 2007" and get a date fix - their calendar comes to a screeching halt for a reason. Or it resets. Whatever.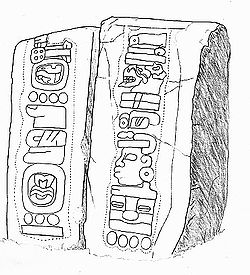 The Maya, as you may or may not care, was an advanced Mesoamerican civilization that traces its organized roots back to approximately 1800 BC. The civilization flourished from AD 250 until AD 900, with a vibrant culture, sophisticated architecture and technology, and exceptional achievements in language and the sciences. The Maya civilization mysteriously collapsed sometime around AD 900-1000 - one of the greatest mysteries in modern archaeology. Contrary to common belief, the collapse of the Maya had nothing to do with Spanish Conquistadors, Aztecs or various common intestinal illnesses.
The Maya (or "Mayans") were unquestionably highly sophisticated in their understanding of astronomy and its relation to seasonal cycles. The Maya used a number of different cyclical calendars, including the 260-day Tzolk'in and the 365-day Haab' which were used together to provide relative dates; while their historical dates were recorded using a system commonly called the Long Count. (Interestingly, the Long Count calendar is one of the first recorded uses of the mathematical concept of a "zero" or placeholder number - an innovation Western cultures did not adopt for many years.) Other Maya calendars in sometime use included those with intervals of 9, 13 or 819 days. History does not record if there was a Maya equivalent to the Hallmark Corporation but if there was, they clearly made a killing.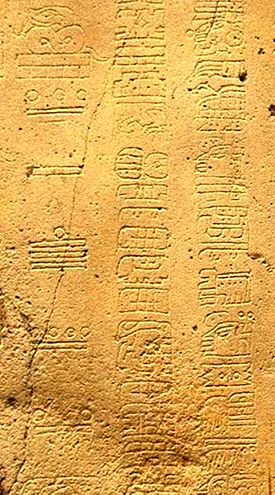 The Maya concept of the world was cyclical in nature: cycles of death and rebirth. The combination of the Tzolk'in and Haab coincided every 52 years - at the time, significantly longer than the average person's lifespan - and this rare occurrence was seen as a time of bad luck. Like some other mesoamerican cultures, the Maya believed that their existence was tenuous and subject to continued approval from (and sacrifice to) their gods who might at any time end their world and start anew. The Long Calendar dates "roll over" every 144,000 days.
Enough with boring history and math - let's get to where ancient books of prophecy come in.
According to one post-decline Mayan mythology book called the Popol Vuh, the gods had run through a number of these cycles, each time reinventing the world but ultimately finding their creation unsatisfactory and starting again. The fourth of these great cycles (the Fourth World, the age of humans) began at a certain point in the Long Count calendar. The next time the calendar cycles through - and hence ripe for a new cycle to begin is - wait for it - DECEMBER 21, 2012. This is the time for the Fifth Age to begin - whether through the destruction of the Fourth World or its transformation into something else is unknown. Frankly, if we were the gods, we would look at this Fourth Age of Men and after watching only an hour or two of basic cable television, we would pretty quickly conclude things had gone terribly wrong and it was time for starting over, too.
Now, for most reasonable people, the fact that a book of mythology from a vanished ancient culture predicted a new historical cycle would be enough to convince them of impending doom. However, when you add to that the overwhelming weight of similar ancient predictions, the undeniable link to the 26,000-year precession of equinoxes and proliferating modern signs of impending catastrolypse, the evidence becomes so overwhelming that it is so true that it goes off the scale of trueness to something entirely new like ... HYERULTRATRUENESS TO THE INFINITY POWER. Even the ninja-like-megatrueness of the 2012 catastrolypse.
Unfortunately, the Conspiracy is busy at work trying to keep people from understanding the supergigatrueness. "Scientists" make pathetic claims like "We have no record or knowledge that [the Maya] would think the world would come to an end" or that the 12/21/2012 prophecy is "a complete fabrication and a chance for a lot of people to cash in."
Fortunately, those of us in the Know are immune to the lies of the Conspiracy and can do what is necessary to begin panicking early and often.
Part 2: Evidence of the coming catastrolypse:
The Hidden Secrets of the Cross of Hendaye - and Boy Are There a Lot of Them
The secrets of the 2012 catastrolypse are not all as obvious as the end of the Mayan calendar (CLICK HERE to read our detailed analysis of its portents of doom), the prophecies of Nostradamus (see here for our detailed explanation), or the graphic depictions of Himalaya-destroying tsunamis in the popular documentary film "2012". Some secrets are hidden in obscure locations and protected by layers of symbolism and arcane knowledge, concealing terrible things such as the secrets of the world's end, or the dialogue in a Dan Brown novel.

One such key to the 2012 mystery is encoded in the famed Cross of Hendaye. The Great Cross there hides a prophecy that can only be unlocked with the knowledge of medieval mysticism, alchemy, the works of shadowy occultist Fulcanelli, the philosophy of Chilaism, and possibly the Dewey Decimal System.
Located in the coastal village of Hendaye on the French/Spanish border is the Church of Saint-Vincent. Outside that church is a stone cross, rumored to have been created in Germany during the 1600s at the behest of the Rosicrucians but later moved to Hendaye in the 1800s. This may have been because someone asked the Cross whether it wanted to live in Germany or in a French resort town.
The Great Cross of Hendaye is, unusually for a Christian monument, inscribed with a variety of alchemical symbols of unknown meaning. When interpreted in a certain (i.e. "correct") way, they are believed to represent a schematic of the legendary alchemists' Philosopher's Stone and provide detailed clues to the end of the world.
The modern fame of the Cross of Hendaye is largely due to the work of "Fulcanelli," a shadowy figure purported to be a 20th century French alchemist and occult writer. (CLICK HERE to read our detailed analysis of Fulcanelli's part in the coming 2012 catastrolypse.) Using detailed knowledge of alchemy, medieval occultism and ancient texts, Fulcanelli interpreted the Cross of Hendaye as a hidden guide to the world's end.
Some researchers have called this "the great MacGuffin of human history." (As the reader doubtless knows, a "MacGuffin" is a term coined by Benjamin Franklin to mean the central object of a movie's plot which drives the action but may later turn out to be less relevant to the ensuing developments. Examples include the "Maltese Falcon" in the film of the same name or the Magic Hair Cream in "Grease.")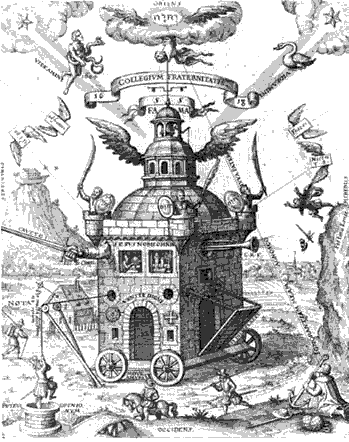 So what does the Cross of Hendaye really tell us? The indisputable facts are:
The cross, when (mistakenly) taken at face value, is a stone monument with a traditional Greek Cross on top of a narrow pillar with a four-sided base. All of these components bear markings or inscriptions which are either decorative flourishes or are filled with esoteric occultist messages containing details of the world's forthcoming doom. The cross itself contains an inscription in Latin ("OCRUXAVES PESUNICA") which is either a.) an incredibly common phrase with a grammatical error, or b.) a secret reference to esoteric philosophy instructing us that the movement of the sun is linked to a forthcoming cyclical renewal of all things in flames. You would also be forgiven if you thought it was a spell from Harry Potter. A further clue to the mystical nature of the cross's symbology clearly indicated by another inscription ("INRI") which can be interpreted as either a.) the most common Latin abbreviation for the title of Jesus Christ, or b.) having a secret meaning linked to Rosicrucian alchemy and the belief that the world will be made new in fire. The base of the cross bears four images. The first three are astronomical symbols, including a starburst, a moon, and an angry-looking sun face surrounded by stars. The fourth panel shows an engraved oval (sometimes called the "mystical almond") split with a cross and showing four "A"s, one in each quadrant. As interpreted by the mystic Fulcanelli, these - when taken with the inscriptions above to decipher the four panels below - spell out a prophecy that the world will end with Christ's return and be remade new at the next Galactic Crossing in 2012. Of special importance is that the cross uses similar symbolism as other clues left by secret occult organizations such as the Rosicrucians and Knights Templar - which is how 2012 is clearly linked to the New World Order . Honestly, I got a little lost trying to understand this whole part but I'm sure it makes sense.
The cross also "hints at a 'Place of Refuge' that will be untouched by the calamities." It is believed by some scholars that this refers to Cusco, Peru; while others believe it is a very specific plot of land in El Rancho, Colorado - address available upon request - which it just coincidentally happens that you can buy at very inflated prices if you're interested.
Part 3: Evil agents behind the conspiracy:
The Bavarian Illuminati: Will 2012 Bring Mandatory Lederhosen?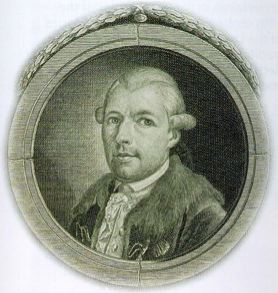 When looking at the groups that may be behind the coming 2012 catastrolypse and doom-a-thon, one of the most frequently mentioned likely conspirators is the elusive secret society known as the Illuminati. While it may sound innocent like a new kind of Italian sports car or a high-tech flashlight with built-in MP3 player, it is in fact a sinister cabal which has dedicated itself to clandestine operation in the service of a new world order for hundreds of years. And not in a good way.
Springtime for the Illuminati
The "Bavarian Illuminati" was a society founded on May 1 1776 in Ingolstadt, Upper Bavaria, by a professor named Adam Weishaupt. The group called itself the "Order of Perfectibilists," and modeled its structure after that of the freemasons but with a greater emphasis on secrecy and hiding its members' identities. The group was influenced by many of the common Enlightenment ideals of the age including Deism, empiricism and the abolition of monarchies.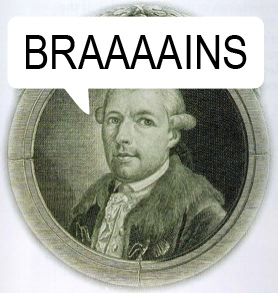 But Weishaupt also had a more radical vision of the future where man had been "perfected" and lived in harmony with nature, freed from government and organized religion. (Little-known fact: nearly 200 years later, Weishaupt would rise from the grave as a zombie to sue John Lennon for copyright infringement over the lyrics to the song Imagine.)
The Illuminati grew over time to include many notable German intellectuals of the day, and drew many of its members from Masonic lodges. It reportedly had more than 10,000 members at its height. However, in 1784 the ruler of Bavaria banned all secret societies. Weishaupt was exiled, the group was infiltrated by government agents, and by 1785 it had ceased to exist in its original form.
But the image of the Illuminati - with its secretive ways, elusive membership and stridently anti-religion, anti-government philosophies - lived on in many conspiracy theories long after after the organization itself had disappeared. In 1797 a Jesuit priest (unsurprisingly not a huge fan of the anti-religion Illuminati) published claims that the French Revolution had secretly been directed by the hidden group. (After this was revealed, no emperor of France ever sent a Christmas card to the Illuminati again.) The 1921 book World Revolution, the Plot Against Civilization ascribed to the Illuminati every revolution over the previous 130 years, possibly even including the Industrial Revolution and the Evolution Revolution. The founder of the right-wing John Birch Society once publicly claimed that the Illuminati controlled both sides in the Vietnam War, which seems like terrible indecisiveness to me. Claims of Illuminati plans for world domination have proliferated dramatically in the past 30 years, including many suggestions of an Illuminati hand behind the New World Order which will enslave the globe in 2012.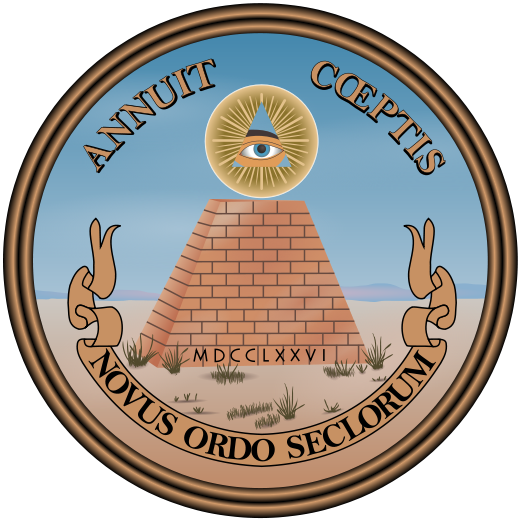 Some readers might suggest that there is no hard evidence that the Illuminati survived beyond 1785 as a group, and that conspiracy theorists have inexplicably attributed vast global powers to what was in fact a tiny regional debating society which has been defunct for more than two centuries. These readers are wrong, and stupid. And they smell like poo-poo.
You be Illin'-luminati
But who are the modern Illuminati? Speculation ranges widely, including:
According to a 2008 interview with former Illuminati member "Svali," the Illuminati are a group of wealthy global power brokers who have manipulated the economy into a collapse so that they can take control of the planet. Their nefarious conspiracy will unleash an economic disaster which will "make the Great Depression look like Sunday School" and set the stage for the 2012 world shift. This information comes from an Illuminati defector, presumably concerned over what effects a global economic meltdown would have on the Illuminati employee 401(k) plan.

---

According to the followers of Saint Bridget of Sweden, the Illuminati are a group of international politicians and wealthy potentates seeking to create a "New World Order" with a single world government. Illuminati member George W. Bush secretly perpetrated the 9/11 attacks in order to create a New World Order as described by his Illuminati predecessors Henry Kissinger, Bill Clinton and George H.W. Bush. The one-world government theory seems eerily plausible given that over the last eight years we have handily consolidated down to barely just over 200 national governments in the world, nearly all in the iron grip control of the singleminded and brutally efficient United Nations.

---

Well-known Illuminati researcher Terry Melanson (founder of the Illuminati Conspiracy Archive) identifies them as close affiliates of the Freemasons and Rosicrucians who were responsible of the addition of the "all-seeing eye" to US currency. He also notes their symbol was the Owl - do we see a Harry Potter occult connection here?

---

According to Myron C. Fagan, the European banking dynasty of the Rothschilds took control of the Illuminati from Weishaupt and used the organization to control US foreign policy through the Council on Foreign Relations. This makes sense because the Rothschilds are Jewish, and they and the Germans are usually working together on world domination. Or sometimes, maybe. Well, okay, this may or may not make sense.

---

In his 1996 song "Hail Mary," Tupac Shakur identified the "Killuminati" as a secret society of the rich and powerful which pressured him to join. According to some commentators, one such member of the Illuminati is hip-hop mogul Jay-Z (seen at right with Kanye West flashing the wildly popular Illuminati triangle sign as also seen on the US Great Seal). Jay-Z's Illuminati connections helped his career take off as well as that of his partner Beyonce - but when Tupac and Aaliyah refused to join, the Illuminati had them killed. Given the keen interest the Illuminati has shown in the popular music business over the last 200 years, this seems fairly obvious.

---

At carlpetersononline.com, we learn from Carl that the Illuminati is a group of international bankers who foment wars, support the illegal construct of taxation and have been among the ones persecuting him since his days in a commune in British Columbia. His website also sells portable sawmilling equipment.
So what do we really know? By taking this research and evaluating it critically, we know that the Illuminati are a society of Jewish bankers, born-again Christian politicians and black hip-hop moguls. Their methods include faked terrorist attacks, global economic sabotage, and alterations of the US one-dollar bill. They are dedicated to bringing on the 2012 apocalypse, dominating the MTV video charts through intimidation and assassination, posting "pro-Hedwig" materials on Harry Potter fan sites, and mercilessly harassing sawmill entrepreneurs. If that doesn't clinch the case for 2012, I'm not sure what does.
Part 4: Vehicle of Earth's destruction or salvation:
Approaching Doom From the Rogue Planet Nibiru
I think we can all agree that if there is one government agency that is most engaged in nefarious projects executed in the utmost secrecy, it is NASA. Can they really expect us to believe they spend hundreds of millions of dollars launching space shuttles to deliver exercise machines and 2nd graders' science projects into orbit? Given NASA's $18 billion annual budget, the rest of the money must be going somewhere besides bulk purchases of Tang. Clearly NASA is up to something ... and what could be more central to their mission than covering up the imminent collision with the earth of a rogue planet?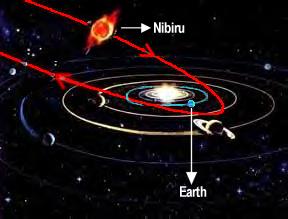 Modern Earthlings were first made aware of the unavoidable close encounter between Earth and a rogue planet via Wisconsin-based Nancy Lieder, who receives messages from extraterrestrials from the Zeta Reticuli star system and has her own website. After faking out the authorities by predicting a May 2003 collision which did not occur, the Zeta aliens revealed the arrival of "Planet X" would be later ... perhaps even in 2012. Coincidence? Not bloody likely.
Many 2012 researchers have made the logical conclusion that the "Planet X" nobody has yet definitely identified is the same as the "Planet Nibiru" originally described by researcher Zecharia Sitchin, which nobody has definitely identified either. Sitchin translated ancient Sumerian texts and discovered that their ancient gods were in fact aliens from a rogue planet called "Nibiru" which intersects with Earth's orbit every 3,600 years. This regular transit allows the Anunnaki (Sumerian gods) to visit with earthlings as it passes through the solar system. The Mayan calendar end date of December 21, 2012 is based on the return of one of the Nibiru "gods," known to the Mayans as Quetzlcoatl. Sitchin himself has claimed that the Mayan calendar has been misunderstood and Nibiru's next return will not occur until 2087, but I think we all know better.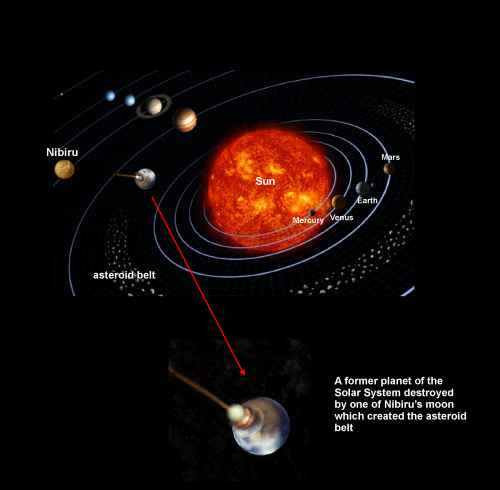 Eventually, other 2012 researchers began exploring this heretofore unknown rogue planet and found shocking evidence of confirming Nibiru's imminent arrival. Some of these proofs are known to contain actual math and numbers - which is the same thing as science. Upon its arrival, what will happen? To quote the Bible, "ye are all totally f***ed." According to SurvivingNibiru.com, potential effects include: earthquakes; super volcanoes; 200+ mph winds worldwide; and "a quick pole shift will take place, causing the oceans to rush over the continents." Other possible effects include the Earth's rotation stopping; nuclear winter; global warming; and the Washington Redskins reaching the NFL playoffs because all the other teams have been killed by the oceans rushing over the continents.
Fearing the wrath of the authorities conspiring to cover up Nibiru's return, even this website attempts to stem the imminent worldwide chaos due to Nibiru's passage with cleverly worded disclaimers like "SurvivingNibiru.com, nor does anyone else know one way or the other if Nibiru is Real or not. You will not find any DATA on this website, or hear where we tell you in a video that Nibiru is coming." However, it's pretty clear that everyone knows that a.) Nibiru is coming and will cause massive worldwide devastation, b.) NASA is instrumental in the coverup; and c.) Daniel Snyder is an even worse NFL owner than Al Davis. READ BETWEEN THE LINES, PEOPLE!
Putting all this scientific knowledge together, the hopes for the Earth to survive 2012 seem slim indeed.
Part 5: How you can save yourself (or die more efficiently):
Go To Your Happy Place
Any of you who have seen the popular documentary "2012" will know that when the catastrolypse strikes, worldwide devastation on an epic scale will ensue. Even a smaller catastrophe like a simple massive cometary impact could cause significant inconvenience to those living in the areas destroyed by hypersonic shock waves. What can you do to avoid either - and hopefully both - of these outcomes?
Where do researchers claim you can be safe?
Many researchers have posed their thoughts on where you can weather the death-a-palooza, then cheerfully emerge into a post-apocalyptic world not unlike the video game "Fallout." Where do the authorities point us to?
The documentary "2012" pinpoints the Drakensberg Mountains in the KwaZulu Natal of Africa as the place to survive the world's end. Although apparently even if you make it you will be forced to put up with Oliver Platt so the desirability of survival is debatable. But other top researchers also point to the Drakensberg Mountains as the survival spot of choice. This location was first popularized by the Belgian researcher Patrick Geryl, who conveniently has a book you can buy about it. Some other authorities specifically recommend a comfy concrete bunker, but made with not too much iron since it evidently "attracts thunderbolts." Given what we know about the living conditions in the Drakensberg mountains, we will just hope the refuge from the apocalypse turns out to be somewhere with fewer roving packs of wild dogs and more Six Flags Amusement Parks.

---

Many sources identify Cuzco, Peru as prime real estate for surviving the catastrolypse. According to those in the know, the geology of the Cuzco area is "ideal for dealing with earthquakes and absorbing cosmic rays." (So even if you are killed by cosmic rays, your rock collection will be fine.) Or perhaps it is a specific cave in nearby Urcos, decorated with a cross and star as described by the mystic Fulcanelli, that is the only place to survive. Either way, it's a goldmine for the cabal of evil Realtors in Cuzco specializing in selling doomsday compounds to the New World Order's elite. For example, according to knowledgeable sources on the AboveTopSecret.com forums, "George W. Bush has bought 98,000 acres in the mountains of Cusco [...] I guess he figured out that the Denver International Airport Freemason facility was not going to work if Yellowstone blows." Correct or not, we will recommend this one since Peru looks like lots of fun.

---

Other sources point to anywhere but New York City. Anyone who watches documentaries (such as this one, this one or this one) will be familiar with how often New York City gets completely destroyed. But now we have even more detailed proof that a comet will strike New York City in the near future. Pastor Harry of the "Church of Philadelphia Internet" details how a comet in 2010 (it's okay his math is off, he probably means 2012) is foretold in the Bible. As a result, a 1000 foot tsunami will be created and submerge most of the US Eastern seaboard; which will be a great disaster except for in much of New Jersey. At any rate, it's probably safest to be anywhere with a low concentration of New York Jets fans, just on general principles.
With so many conflicting theories on where to go on 12/21/2012, what can a savvy survivalist do?
The easy way to survive - through attractive real estate investment!
While some people try to get you to purchase expensive books, tapes or other materials to learn how to avert the apocalypse, 2012omg makes it easy and free! We have scientifically identified the precise safest spot to survive the coming 2012 disaster. Rather than charge you to learn the location, we're telling you at no cost! So where is this magical place to guarantee your safety and security while those around you perish in flames?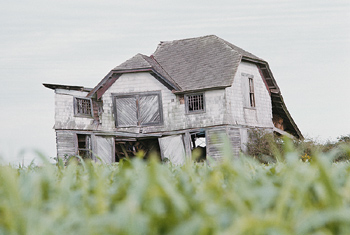 It's at our EXCLUSIVE 2012OMG TIMESHARE RESORT IN SCENIC EL RANCHO, COLORADO! Rather than reading heavy, word-filled "books" and then having to trudge out into the mountains and build your own drafty survival shelter, why not purchase a timeshare in a luxury condominium and survive in style? This way, you will not only live to see the wreckage of our civilization in 2013, you will have made a strategic investment in real estate - the only investment guaranteed never ever to go down in value for any reason! Best of all, our 2012omg Luxury Timeshare Condos feature amenities such as:
Located in scenic El Rancho, Colorado - home of many shrubs and tumbleweeds! Semi-high in the Rocky Mountains so you can survive any mega-tsunamis under 7,739 feet! Close to attractions like a store, a road, and a fire hydrant! Food service at nearby fine dining establishments featuring specialties such as Big Bite™ and Big Gulp™! (We do not recommend visiting the adjacted Rocky Mountain Oyster stand.) A 1/52 chance of surviving the apocalypse if it happens during your week there!
Visit today and as a bonus you will receive our sales pitch at NO COST! Call today for more information - there is no possible way you will regret it.
Or is this just what THEY want you to believe? Click HERE to see the REAL truth!