Go To Your Happy Place
Any of you who have seen the popular documentary "2012" will know that when the catastrolypse strikes, worldwide devastation on an epic scale will ensue. Even a smaller catastrophe like a simple massive cometary impact could cause significant inconvenience to those living in the areas destroyed by hypersonic shock waves. What can you do to avoid either - and hopefully both - of these outcomes?
Where do researchers claim you can be safe?
Many researchers have posed their thoughts on where you can weather the death-a-palooza, then cheerfully emerge into a post-apocalyptic world not unlike the video game "Fallout." Where do the authorities point us to?
The documentary "2012" pinpoints the Drakensberg Mountains in the KwaZulu Natal of Africa as the place to survive the world's end. Although apparently even if you make it you will be forced to put up with Oliver Platt so the desirability of survival is debatable. But other top researchers also point to the Drakensberg Mountains as the survival spot of choice. This location was first popularized by the Belgian researcher Patrick Geryl, who conveniently has a book you can buy about it. Some other authorities specifically recommend a comfy concrete bunker, but made with not too much iron since it evidently "attracts thunderbolts." Given what we know about the living conditions in the Drakensberg mountains, we will just hope the refuge from the apocalypse turns out to be somewhere with fewer roving packs of wild dogs and more Six Flags Amusement Parks.

---

Many sources identify Cuzco, Peru as prime real estate for surviving the catastrolypse. According to those in the know, the geology of the Cuzco area is "ideal for dealing with earthquakes and absorbing cosmic rays." (So even if you are killed by cosmic rays, your rock collection will be fine.) Or perhaps it is a specific cave in nearby Urcos, decorated with a cross and star as described by the mystic Fulcanelli, that is the only place to survive. Either way, it's a goldmine for the cabal of evil Realtors in Cuzco specializing in selling doomsday compounds to the New World Order's elite. For example, according to knowledgeable sources on the AboveTopSecret.com forums, "George W. Bush has bought 98,000 acres in the mountains of Cusco [...] I guess he figured out that the Denver International Airport Freemason facility was not going to work if Yellowstone blows." Correct or not, we will recommend this one since Peru looks like lots of fun.

---

Other sources point to anywhere but New York City. Anyone who watches documentaries (such as this one, this one or this one) will be familiar with how often New York City gets completely destroyed. But now we have even more detailed proof that a comet will strike New York City in the near future. Pastor Harry of the "Church of Philadelphia Internet" details how a comet in 2010 (it's okay his math is off, he probably means 2012) is foretold in the Bible. As a result, a 1000 foot tsunami will be created and submerge most of the US Eastern seaboard; which will be a great disaster except for in much of New Jersey. At any rate, it's probably safest to be anywhere with a low concentration of New York Jets fans, just on general principles.
With so many conflicting theories on where to go on 12/21/2012, what can a savvy survivalist do?
The easy way to survive - through attractive real estate investment!
While some people try to get you to purchase expensive books, tapes or other materials to learn how to avert the apocalypse, 2012omg makes it easy and free! We have scientifically identified the precise safest spot to survive the coming 2012 disaster. Rather than charge you to learn the location, we're telling you at no cost! So where is this magical place to guarantee your safety and security while those around you perish in flames?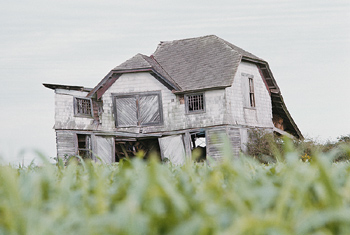 It's at our EXCLUSIVE 2012OMG TIMESHARE RESORT IN SCENIC EL RANCHO, COLORADO! Rather than reading heavy, word-filled "books" and then having to trudge out into the mountains and build your own drafty survival shelter, why not purchase a timeshare in a luxury condominium and survive in style? This way, you will not only live to see the wreckage of our civilization in 2013, you will have made a strategic investment in real estate - the only investment guaranteed never ever to go down in value for any reason! Best of all, our 2012omg Luxury Timeshare Condos feature amenities such as:
Located in scenic El Rancho, Colorado - home of many shrubs and tumbleweeds! Semi-high in the Rocky Mountains so you can survive any mega-tsunamis under 7,739 feet! Close to attractions like a store, a road, and a fire hydrant! Food service at nearby fine dining establishments featuring specialties such as Big Bite™ and Big Gulp™! (We do not recommend visiting the adjacted Rocky Mountain Oyster stand.) A 1/52 chance of surviving the apocalypse if it happens during your week there!
Visit today and as a bonus you will receive our sales pitch at NO COST! Call today for more information - there is no possible way you will regret it.
End of the World Marketplace